SXSW Announces 2013 Features
Friday, February 1st, 2013 by
Wes
South By Southwest (SXSW) announced recently a healthy 109 films added to their features lineup! They join previously announced films and more films are to come including their Midnight Features and Short Film programs.
The official release highlights several films to look out for including Bryan Poyser's The Bounceback (pictured below). For a complete list of selected SXSW check out their complete schedule.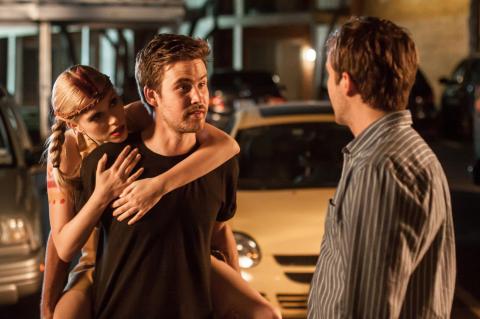 An excerpt from the official press release:
 We're delighted to present 109 films, including 69 world premieres, 14 North American and 5 U.S. Premieres. As always, we're offering you a front-row seat to discovery – a whopping 68 of those titles are from first time filmmakers.

Highlights include Stephen Finnigan's Hawking, Tim McCanlies' When Angels Sing, Joss Whedon's Much Ado About Nothing, Dan Mazer's I Give It A Year, John Sayles' Go For Sisters, Jacob Vaughn's Milo, Penny Lane's Our Nixon, Daisy von Scherler Mayer's Some Girl(s), Zak Knutson & Joey Figueroa's MILIUS, Adam Rifkin's Reality Show, Sini Anderson's The Punk Singer, M. Blash's The Wait, Bryan Poyser's The Bounceback, Jeffrey Schwarz's I Am Divine, and Michał Marczak's Fuck for Forest PLUS too many to name here – take a look and explore the possibilities for yourself.

They join the previously announced, Opening Night film The Incredible Burt Wonderstone, Joe Swanberg's Drinking Buddies, Harmony Korine's Spring Breakers, Evil Dead, and Alex Winter's Downloaded, among others.
The SXSW festival is a compilation of popular independent and mainstream entertainment including film and music. For more updates and information visit www.sxsw.com.
About SXSW:
The first South by Southwest Music Conference and Festival (SXSW) was held in 1987 in Austin, Texas. Despite the fact that Austin was not a Top 20 major market at the time, the background and character of the city made it a perfect location for the conference. Austin was considered a fairly cosmopolitan town for its size because of the University of Texas, which draws people from all over the world. As home to the state government and Texas Legislature it has also always been a popular party town, with a reputation that goes back to the 19th century when numerous nightspots and bars were populated by General Custer's troops after the Civil War. These nightspots are located in the same areas where the 6th Street and 4th Street club and bar scenes now exist.