Home Work: Filmmaker Yared Zeleke's Origin Stories
Monday, May 5th, 2014 by
jordan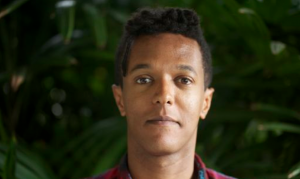 It takes a certain level of conviction to stay true to one's roots when balancing the demands of a bustling metropolis. The filmmaker  Yared Zeleke is an Ethiopian storyteller who swims against the current, making films that detail his experiences back home and abroad. His first feature, currently in development, was selected as one of the 15 international projects for the Cannes Film Festival's lucrative L'Atelier program in 2013. Raised in the slums of Addis Ababa, Zeleke earned his MFA in Directing from New York University's Tisch School of the Arts, and has worked with various NGO's in Norway, Namibia and the U.S. All the while, he has preserved his artistic integrity while redefining where he calls home. I had a conversation with Mr. Zeleke about current artistic pursuits and the conditions facing today's artists in the Big Apple.
Can you talk about your upbringing?
I grew up in the slums of Addis Ababa during one of the darkest periods of Ethiopia's 3,000-year history. Emperor Haile Selassie had just been deposed in a military coup and the country was consequently thrown into cycles of war and famine. The ongoing conflict and chaos in my country caused me to also lose my family and home while a young boy. Despite the disturbances, I had a happy childhood.
How has your sense of home influenced your next film?
My first feature, Lamb, is analogous to my life's journey in that it is deeply personal and inescapably political. It is a semi-autobiographical drama about the heart, heartache, and humour of everyday life in my homeland.
You are now back in Ethiopia. How did you feel being an artist in NYC?
It's challenging…
Your film The Quiet Garden (2009) is about people asking to escape from the city's noise. Would you or did you ever live in Manhattan?
I once lived in the Lower East Side, right before it got out of control with rent and well-off tourists. I wouldn't want to return there or probably any part of Manhattan even if i could. Rent, especially, continues to increase for meagre spaces even in inconvenient locations. More and more young people are moving in, who are not necessarily artists themselves.
Film financing is a complex matter, especially during times of economic difficulty. How do you manage?
Grants, grants, and more grants. My work has been funded by several major European sources.
Why do you think artists resist calling their work political?
Politics is such a dirty word.
Your films directly confront difficult to dramatize anxieties.  Housewarming (2009) confronts dead-on the alienation felt by an immigrant woman longing to be back home while attempting to fit in at a stylish dinner party in Brooklyn. 
Housewarming is about homesickness, particularly as an immigrant in New York. Tigist (Patience) is a short documentary about a girl from the Ethiopian country-side who dreams of being a pilot and comes to California to learn to fly.
Women play an integral role in many of your films.
Strong women raised me in Ethiopia. My primary caretaker was my grandmother who was revered for her storytelling skills as much as she was for her coffee ceremonies. She was born in Kaffa, after all, the birthplace of the coffee bean.
Many of your stories deal with being an outsider and the relationship between defending one's individuality or being accepted into a group.
The traditional African proverb,"it takes a village to raise a child", rings true about my upbringing. The adults in my neighbourhood collectively looked after all of us as children by keeping us distracted from the horrors of the Derg with school, church, and the movies. I remember my aunt's spiced bread; my cross-dressing cousin's comedy act; the forested, majestic mountains surrounding the city; and the bonfires, singing, and dancing during the holidays. I incorporated all these memories into my stories. - Jordan Mattos
For more information about Yared Zeleke and Slum Kid Films, visit http://vimeo.com/user942327