Sightseeing: The Dichotomies of and Gender and Perception in Linda Niccol's The Handkerchief + Dangerous Ride
Monday, February 15th, 2016 by
jordan
The films of Linda Niccol play with our expectations of traditional gender roles. In both the short films Dangerous Ride and The Handkerchief, male-female protagonists engage in a dance of shifting perceptions and trust. In The Handkerchief, a young blind man (Krampus' Luke Hawker ) meets a passerby and an unexpected relationship evolves. In Dangerous Ride, a young woman (iZombie's Rose McIver) enters the life of a former sex offender (The Hobbit's Jed Brophy) but what happens when they're alone together is not what you expect. 
In both The Handkerchief and Dangerous Ride, we are asked to review and reconsider our perception of gender roles and stereotypes. When working with your actors in preparation for filming, what type of conversations were had about these dynamics?
Both films are based on short stories I wrote. The stories provided the internal workings of the characters and helped give the depth and layers the actors needed.The scripts provided the blueprint . As the actors are all very talented and experienced I allowed them to interpret the characters freely. I also employed acting coach Miranda Harcourt to give advice on the character of Martin in Dangerous Ride as Jed Brophy  had been very involved in motion capture performances and Martin's character required a less confident physical presence.
Dangerous Ride imagines a scenario in which trust can potentially be manipulated. Trust is also an element in The Handkerchief, in which a blind protagonist requires trust in a very direct sense. Can you discuss the origin of this theme for each  film?
Trust plays a big part in both films. I am interested in the human capacity to be open to potential situations – safe or dangerous – in the hope of finding love or meaningful connection.
You play with certain conventions of how we expect to see male and female roles interact on film. You posit a situation where perceptions of vulnerability  shift dramatically from one character to the next. Early in the film, it's surely Renee who is vulnerable – she conforms to certain stereotypes of the damsel in distress. When we first see her she is framed through Martin's point of view. Then, it's Martin who is vulnerable. He becomes consumed with the realization that perhaps because of these received stereotypes, he could be implicated in a potentially tragic scenario.  In terms of your writing, where did this dynamic originate, and how did you structure the narrative?
The intention with this story was to turn stereotypes upside down. I really wanted to avoid a situation where Martin's past a sex offender was telegraphed to the audience in a cliched way. By that I mean I could have got him to grow a beard and put on spectacles but when I did the research at the parole office I was reminded that sex offenders don't have a type. I wanted to present a situation where Martin's effort to undergo rehabilitation paid off.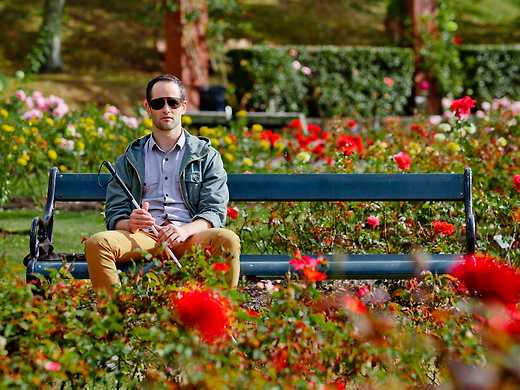 The Handkerchief returns to the motif of "the pair", though this time the  set up is more classic, but still you play with whose perspective we get to understand the story from. At first June is obscured from the audience- we don't see her. It's only when she allows herself to be blindfolded that we first get the shot of both of them together. These choices are subtle, but they communicate the essence of the narrative in such a nuanced way. How did the story inform technical choices (such as certain camera angles, inserts, sequences) ? Were there any technical adjustments  necessary or shots you wish you could have expanded on?
To create the world in Alistair's head relied on his memories from before he went blind and his heightened imagination, as well as his other senses. I chose to use visual metaphors, models and in camera effects as well as digital ones to create a cinematic story. Originally the story ended with a lovemaking scene where June's body (as well as her face) comes into focus as Alistair caresses her but story-telling (and budget constraints) dictated the end of the story, being that we see June when Alistair does. I also deliberately chose commercials cinematographer
Renaud Maire
to  ensure the film had a dreamy, romantic look.
What part of the process in creating these films was the most involving on the personal level?
The tenacity required to get these films made impacted on me personally and financially. I believed in the stories and wanted to see them realised in film. I had to raise the funds to make them and I like to pay people for their work. I had to gain the trust of the actors and crews and I had a very supportive producer,
Glenis Gile
s to keep me buoyant.
As a filmmaker who has participated in several international festivals, do you notice any differences between audiences in the US and New Zealand, for example, or how different audiences have received the film?
I love film festivals and was thrilled to get my films accepted. Audiences in New Zealand were really receptive and had read the stories they were based on or heard them broadcast. In the US I was really gratified by the way the films were received and I really enjoyed the camaraderie of other filmmakers at
Rated SR
and Newport Beach. I set out to create films that might resonate universally and I think I've achieved that.
Can you discuss your background and start in film?
Making films was a place I was never going to go to as both my siblings are highly successful in this field. I thought I'd just write fiction and had a couple of short story collections published and broadcast. I was approached by director
Paul Murphy
to write short films based on his ideas and he also got me the gig as second writer on New Zealand feature film Second-Hand Wedding. Before that I wrote The Handkerchief and won a major prize – the 2006
Kaos Films
British Short Screenplay award out of 2,000 entrants. This gave the confidence to keep writing films and eventually direct The Handkerchief – it took seven years to get from the script to the screen.
Are you working on anything right now?
At the moment I am working on three feature screenplays. I have just completed the adaptation of the novel
By Light Alone
, by Adam Roberts. It's a Sci-Fi story and is as one reader commented – beautifully insane.
Watch DANGEROUS RIDE .
Watch THE HANDKERCHIEF.