The L.A. Times launches Indie Focus Screening Series
Thursday, August 9th, 2012 by
Wes
The L.A. Times, critically-acclaimed publication and sponsor of our very own IndiePix Unlimited, is expanding its events for movie lovers with a new, free Indie Focus Screening Series at the Laemmle NoHo 7 theaters starting Aug. 22 with "Robot & Frank."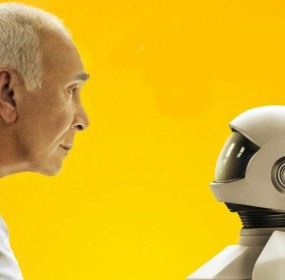 Starring Oscar nominee Frank Langella as an aging jewel thief who turns his annoying robot caregiver into an accomplice, "Robot & Frank" was a hit at the Sundance Film Festival in January. Times movie writer Mark Olsen will be on hand to discuss the rambunctiously heartfelt sci-fi caper with director Jake Schreier.
For more than three years, Mark has been writing the Indie Focus feature for The Times, highlighting indie, foreign and documentary films that often might otherwise pass readers by. With the launch of the monthly Indie Focus Screening Series hosted by Mark, you'll now have a chance not just to read about these movies but also to see some of them and participate in conversations with the filmmakers who created them. 
L.A. offers a wealth of opportunities for seeing new releases and retrospective screenings, and even the most dedicated film fan would be hard-pressed to catch everything worthwhile passing through town. Indie Focus stories aim to help readers navigate through the many options by highlighting some of the best. The Indie Focus Screening Series will allow cinema fans to see these films before they open in general release.
Among those filmmakers who have been featured in the Indie Focus stories are a mix of modern masters and up-and-comers from all over the world, including Olivier Assayas, Lucrecia Martel, Jim Jarmusch, James Ivory, Harmony Korine, Lynn Shelton, Lars von Trier, Catherine Breillat, Rian Johnson, Miranda July, Mike Mills, Lynne Ramsay, Fatih Akin, Andrea Arnold, Richard Kelly, Andrew Bujalski, Ti West, Gregg Araki, Kelly Reichardt, Apichatpong Weerasethakul, Alex Cox,  Yorgos Lanthimos, Takashi Miike, Whit Stillman, Noah Baumbach, D.A. Pennebaker, Joe Swanberg,Atom Egoyan, Lena Dunham, Wong Kar-wai and many more.
In just the last few months, Indie Focus has put the spotlight on daring, dazzling new films from the United States, Canada, France, Greece, Chile and Norway, by a mix of established names such asTodd Solondz, Benoît Jacquot and Sarah Polley and names you'll want to know for the future like Alex Ross Perry, Craig Zobel, Athina Rachel Tsangari, Joachim Trier, Cristián Jiménez and Mia Hansen-Løve.
 
Advance tickets for the "Robot & Frank" screening are available today for Los Angeles Times members; Times members will also receive reserved seating and free concessions. Tickets will be available to the general public at 10 a.m. Thursday and remaining seats will be filled on a first-come, first-served basis.  Doors for "Robot &  Frank" will open at 6:30 p.m.
Check back on Movies Now for updates on future Indie Focus screenings, which are certain to become an exciting new fixture within L.A.'s vibrant film scene.  And for more on "Robot & Frank," check out the trailer below.