Spotlight on Nollywood, pt.1: Hakeem Effects, Special FX whiz
Friday, December 11th, 2015 by
jordan
This is the first of a two part story highlighting an active member of  Nigeria's film community.  With local crews working on enterprisingly low budgets even by most independent film standards, Nollywood produces over 1500 direct to video films a year.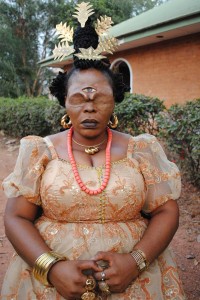 Hakeem Onilogbo is the 37 year old CEO of Hakeem Effects, aka Tricks International, a special FX and prosthetics company servicing many Nollywood productions in  Nigeria. Based in Lagos, Hakeem was born in Ibadan, where he attended the Egba Comprehensive High School. From simple make-up retouching to elaborate creature-features, Hakeem Effects talks new development in Nollywood.
Indiepix: How did you become interested in the special FX business?
Hakeem Effect: Venturing into special FX was not my plan -I had wanted to be an actor. I trained as a painter with Remi Adesada's art production company. In 2006, the Lagos state government set up a body called Lasa. Lasa were to eradicate signages and adverts on the road. It's around this time all signage artists in Lagos went into exile.   
IP: What were your first jobs like?
HE: My first job was with Oreofe William (Awo Jesu), the gospel film director. On my first productions I began with food supplements, but now I'm using the same products used in movies in the western world.I order my products from the U.S.  It's a beautiful experience working with actors on set, they are all good people, and they have trust in my job.
IP: How has the Nigerian movie business changed since you started?
HE: Thanks to new development, the film industry is now getting better than those days where we hardly had quality productions. Our producers now use the best equipment, and we employ creative directors. The crew are now earning better fees because there is professionalism. Back then only actors were being paid well, but now we are realising that without a crew there won't be change in this industry. In the area of awards, recognition of crew members will give them zeal to be able to put more effort into their craft.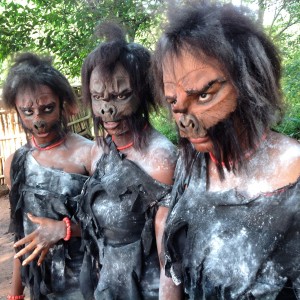 IP: Do you find yourself working in a specific genre of film?
HE: No, not at all. My own understanding about film is, it's a body that hears all  languages. I started with the Yoruba genre, later to the Igbo's genre and Hausa genre. We are all known as Nollywood.   
IP: Do you feel like you're part of the Nollywood movement?
HE: Of course, I'm part of it,  though there were fantastic and great makeup artist names in  Nollywood before I came on board. But being the first black makeup artist to run a prosthetics company in the whole West Africa is a game changer.  I thank God for that. Eighty percent of filmmakers recommend Hakeem Effect for their projects. It's a testimony to the turnaround in attitudes in Nigerian movies.
IP: Are there any directors you'd like to work with?
HE: I'd love to work with every director. Irrespective of their class, each director has their uniqueness. We learn every day that you can pick a fantastic idea from a director people may classify as poor, so I'm ready to work with everyone. No knowledge is wasted.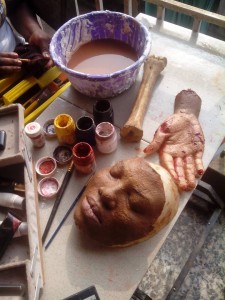 IP: What should indie film fans know about the state of Nigerian cinema?
HE:  People now value good work and what we have. We are bridging the gap. We are getting there gradually.
Follow Hakeem Effects:
on Facebook 
on Instagram @Hakeemeffect