SWIM LITTLE FISH SWIM NOW OUT ON DVD!
Monday, November 30th, 2015 by
jordan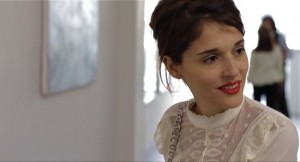 The struggle between artistic integrity and capitalism is at the core of SWIM LITTLE FISH SWIM, a quirky drama from French filmmakers Lola Bessis and Ruben Amar. Between surrealism, unusual characters, art and magic tricks, SWIM LITLE FISH SWIM, the first feature from the writing-directing duo, is a dreamlike journey from childhood to adulthood that has received numerous awards and international acclaim at more than 100 film festivals including SXSW, Rotterdam International Film Festival, Gen Art Film Festival (NYC), Jerusalem Film Festival and more.
"Folding together quirky musicians, uptight art dealers, couch surfers and other newbie New Yorkers" and set against the romantic backdrop of a New York City "where hopeful artists cluster, where dreams are stronger than reality [and] where all of life is made up of 'the substance of things hoped for'", SWIM LITTLE FISH SWIM centers around adamantly unemployed musician Leeward (Dustin Guy Defa) and his wife Mary (Brooke Bloom), a beleaguered hospital nurse who's quickly becoming resentful of her irresponsible husband. While Mary works long draining hours, Leeward, who fancies himself a misunderstood artist and a New Age visionary, composes songs with instruments he makes from his three year old daughter's toys. Enter Lilas (co-director Bessis), a 19-year-old French artist and daughter of a world famous painter, trying to make it in New York's contemporary art scene and escape her overbearing mother. And when the bubbly young woman moves into Leeward and Mary's tiny Chinatown apartment, the couple's already tenuous relationship is upset even further. Will Leeward bear down, get a job composing jingles and meet his responsibilities, or will his chance meeting with Lilas send him down a path that will make his dreams come true?
Following its U.S. Premiere at SXSW and its International Premiere at the Rotterdam Film Festival, SWIM LITTLE FISH SWIM would go on to well-received appearances at more than 100 film festivals around the globe. Eric Kohn, Chief Film Critic of Indiewire said the film, "stands out for the way it sneaks up on you" and "despite its loose naturalism, Swim Little Fish Swim exists in a classic tradition of blue collar struggles and well-intentioned miscommunication. Screwball comedy maestro Preston Sturges would surely approve." And Elise Nakhnikian of Slant Magazine said, "What comes through strongest is its Woody Allen-esque treatment of Brooklyn, complete with golden light, beautiful young women, glamorous locations and plenty of appealingly tortured—or insufferably neurotic, depending on your point of view—artists." Among other awards, in 2014, SWIM LITTLE FISH SWIM captured the Grand Jury Award for Best Feature at both New York's Gen Art Film Festival and the New Jersey Film Festival and the Audience Award for Best Feature at the Green Bay Film Festival and Mamers en Mars (France).
Check out the trailer and buy now!
IndiePix Price: $14.95
RUNTIME - 96 minutes
COUNTRY - France
SUBTITLES - English
ATTRIBUTES - Widescreen, Color, Stereo