Director Talks: Michael Stabile of "Anima"
Thursday, December 6th, 2012 by
Wes
The short science-fiction film Anima explores the curiosity we all have about life after death. Through the lens of a neuroscientist we breach the barrier between our plane and the next and ultimately emerge enlightened, or do we?
The director of Anima, Michael Stabile, along with his crew enjoyed a well-reception after their online premiere this past September 14-21st. Phrases like "awesome film" and "left wanting more" were but a few of the substantial praises of the short which looks to ride this success into the festival circuit. I had a chance to view the film and ask Stabile himself about all the twists of turns of the project via financing, plotting, and filming.
IndiePix: Anima attacks the age old question about the after life with science, and a little bit of baggage. Do you consider yourself >a pragmatist like Dr. Elcott?
Michael Stabile: Very much so. I advocate the scientific method whenever I possibly can. I actually think that science can tell us how to orient society far better than politics, religion, or economics. This somewhat unpopular perspective always bleeds into my writing, but I've been taught not to make my screenplays a soapbox. All narratives need an underlining message or theme, but everything must be about the characters while also pushing the story forward. The moral message has to be subtle. When an audience starts asking themselves if they agree or disagree with your film, you've lost them.
IP: Were you inspired by any particular medium, perhaps science or religion, when approaching writing the story of Anima?
Stabile: There is so much information on the internet in this regard, but none of it served as my inspiration. I discovered it after the story idea came to me while I was doing research. None of it really shaped my story too much. Most of the "experiments" I read about seemed fairly ridiculous. My inspiration was simply to put science into a place where religion had most of the claim.
IP: Anima came to be from the hard work of all cast and crew involved, but also benefitted from the popular crowdfunding site Kickstarter. Were there any other financial hurdles you had to jump to make this film happen?
Stabile: When my co-producer CJ Pelosi and I sat down to budget out the script, we were looking for a number that we felt was reachable through kickstarter. Currently, we don't have the needed fan-base to raise serious money, so we knew we'd be depending on friends and family. I needed more money than what we raised on kickstarter, so I ended up going into my own pocket a little too much. It was a learning curve for sure. Next time, I intend to avoid that. I'm hoping Anima shows fans and investors what I am capable of and encourages them to support my next project. I am certain, with a sizable budget, I could make a really solid and powerful film.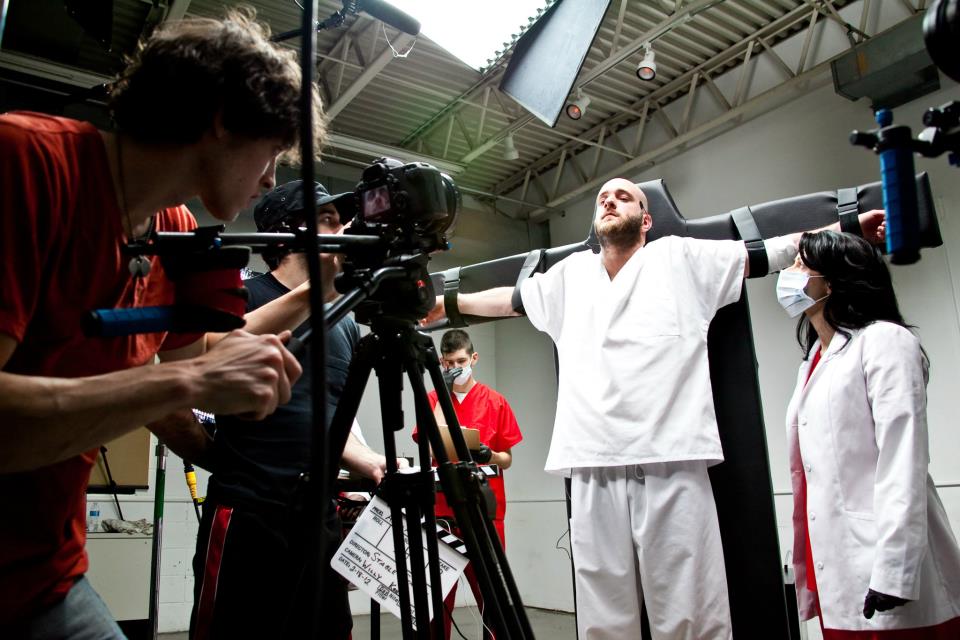 IP: Online premieres are still in their infancy, but seem to be coming along. Aside from the obvious ability to save money was there a reason you chose this type of premiere over something else?
Stabile: The decision to screen the film online came about purely through budget restrictions. By the time we hit post-production, our budget was nearly exhausted and we needed what little funds we had left for the digital effects editor and score composer. It just wasn't practical to rent a theater for a film that's less than 15 minutes. In the end, I think it's for the best. People can watch the film in comfort of their own home, and we are able to get more eyes on the film this way. I'm just so thankful for the internet. It has opened so many doors for me and I'm proud to release my film online.
IP:  What is your next project?
Stabile: I've been toying with a lot of ideas. I'm compelled to put one of my feature film scripts into production, but I'm not sure I have the support for it just yet. I need more fans, more support, and more money. I feel the short film arena doesn't have much more to offer me. I'm currently writing a pilot episode for a web series and I feel very good about it, but nothing is certain. The only thing I know for sure is that my next project will be bigger, better, and more challenging.
With such a welcoming reception from fans who've seen the film, Anima will no doubt be showing up at a festival near you soon. For the latest info on the progress of this film visit the official Facebook page.