Echotone: In Competition @ Crossroads Film Festival!
Wednesday, March 28th, 2012 by
Wes
Echotone is on the move! The musical doc, featuring several artists and performances from artists right out of Austin, TX, is on back on the festival circuit so catch it if you can! Crossroads Film Festival is one stop, and there it will be playing in competition so wish Nathan and the rest of the Echotone creative team luck as they bring their melodic doc to the masses!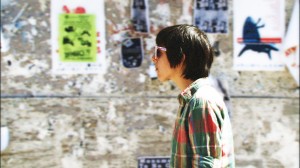 Here's some info on Echotone:
Austin is known worldwide as the "Live Music Capital of the World." But what exactly does this mean? As nearly two dozen high-rises pop up throughout the city amidst an economic downfall, how does the working musician get along? This lyrical documentary provides a telescopic view in the lives of Austin's vibrant young musicians as they grapple with questions of artistic integrity, commercialism, experimentation, and the future of their beloved city. Echotone is a cultural portrait of the modern American city examined through the lyrics and lens of its creative class.
There is rising star soul revivalist Black Joe Lewis selling out concert halls by night and delivering fish by day. There's Cari Palazzolo of synth pop sensation Belaire, poised for commercial success, but conflicted over the thought of her music turning into a commodity. Then there is experimental troubadour Bill Baird, whose band Sound Team enjoyed a major label deal with Capitol Records and was subsequently dropped after one album. Interweaving the tales of these young artists to form a mosaic illustrating the universal struggle many contemporary fringe cultures are experiencing.
With Penelope Spheeris' The Decline of Western Civilization as a primary influence, Echotone explores the world of Austin's vibrant music culture as it struggles to balance notions of artistic integrity and sustainability amidst an economic, cultural, and political paradigm shift.
Nathan Christ's work casts a lens on the struggles for expression and freedom among independent cultures. Whether his subjects are exonerated death row inmates, independent working musicians, or young, broke American travelers adrift in the Muslim world, Nathan thrives on the fringe. One of his current projects features a novel-length memoir called Migrations and an accompanying film based on his bohemian travels from Holland to West Africa in a Volkswagen van. The project has generated much interest among New York-based literary agencies and is awaiting the next stage of editing. Echotone is Nathan's first feature film.