Event Wrap: Mamachas Screening!
Thursday, April 5th, 2012 by
Wes
We thank those who made it out to the free screening of Mamachas Del Ring, the inspiring story of passion for sport by Betty M. Park. Watching the film, you get a sense of the task at hand with documentary filmmaking in the compartmentalizing of complex stories in simple terms using nothing but your imagination and the dialogue lines you're given.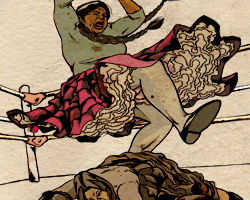 We held a quick Q&A session with Park which yielded some insight into how the story came about, the feelings of Carmen Rosa and the others who were subjects of the film, and Park's future projects.
What people assume but is always interesting to discover about documentary filmmaking is the random way in which a subject can 'happen upon you'. With some projects, a defined caused and an unyielding need to explore it acts as fuel to the filmmaking machine that is meticulous hours of filming – whereas Park underwent a different process with Mamachas Del Ring. While in Bolivia for recreation and fun Park came across a poster featuring Lolita wrestling champion Carmen Rosa and the rest, as they say, is history. She explored the event and found the story in the filming; bringing us the complex struggles faced by these and, perhaps, by other performers whose sole mission is to deliver entertainment while denying themselves.
Further, much like other documentaries Park happened upon the entirety of the story about six months after the conflicts had occurred which may be evident from the way animation was worked into the film. The entire film took two months to shoot, and Carmen and her colleagues were pleased with the result when they visited NYC for its premiere.
As far as happy endings go, though the film is left ambiguous we can say with confidence via Park that Carmen and Yolanda have reconciled their differences cited in the film and may be moving or arrived at the friendship they once knew. Park is currently working on an animated project, keep a look out for it as well.
We hope you join us for future screenings and learn from our filmmakers who, by virtue of who they are, what they do, and the community they are involved in, can give great insight into the love of making films!